Cindy Marlane Rhoades has quite a life story. Raised in northern California, she acquired a doctorate degree in sociology and a University of Oregon professorship. Ready for a change from academia, she was in her early 30s after sailing in the Bahamas and making her way to the Ocean Reef Club, where 10 years were spent building her business. When a fire destroyed the maintenance and housekeeping structure at the Ocean Reef Club, she was offered it and an opportunity to "cut her business teeth."
Already owning a home in Key Largo, she started coming to Key West on weekends and bought a home on Southard Street in 1994. In 1997, she obtained a property near what is currently City Hall, now called the Molly M. Parker house and tropical gardens, which Parker birthed. Established in 1934, Parker's presence is still felt, since Rhoades named her corporation after Parker.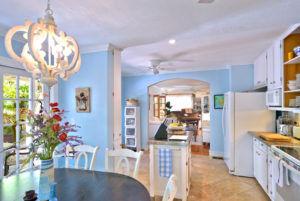 Parker is another story. Her gardens were included in a 1935-36 Key West guidebook during a decade when Key West realized that tourism was the path to economic recovery. Parker installed a large grove of Thrinax palms, several mahoganies, an indigenous ficus tree and tapped a fresh water well for watering the garden. Known as "The Johnny Appleseed of Key West," she made her mark planting mahoganies around the island. She was also admitted to practice as a counselor and an advocate by the U.S. Southern District Court.
Rhoades went through an especially difficult time in 1999, when she was diagnosed with aggressive breast cancer. Following surgery at Moffitt Cancer Center in Tampa, she returned home to Key West for chemotherapy and radiation. Understanding the healing power of trees, she had a treehouse built in the giant mahogany outside her bedroom. Though sleeping in a tent there might have seemed "a bit spiritual and pagan-like for a businesswoman," it was neither given her background of growing up amidst "the giant sequoias of Northern California."
Just finishing cancer treatment when the four-bedroom house next door became available, Rhoades converted it back to a single-family residence from a duplex, an interior stairway (previously a storage area) was opened, French doors and awning-covered balconies added, closets and hallways transformed to rooms, and the downstairs kitchen expanded. She removed carpet, sanded floors and installed new wood flooring upstairs. She simultaneously retained charm and characteristically saved or re-purposed old features for modern needs. Windows are mahogany, and marine plywood was used throughout. Doubling a swimming pool's size that former owners had hidden in debris, Rhoades guessed a "really solid" in-ground pool existed. It did. A lower added pool level looks like it's always been on the 5,670-square-foot lot.
The re-located front entrance was replaced with a door from her daughter Kelly's (married to attorney Richard Klitenick) Harris Avenue home. A lovely outdoor portico, formerly a carport, had its roof height raised 3 feet. New steel beams for support were wrapped in wood to create a coffered ceiling. Off the portico is a washer/dryer closet as well as a second washer/dryer upstairs. Arched doorways and rooms open into other rooms in the two-story structure with a finished area of 2,156 square feet. Including covered outdoor areas, it totals 4,311 square feet.
Rhoades learned about vacation rentals before the start of the internet, catapulting her own business into now 60 to 70 vacation rentals, as well as several houses owned with husband M. Scott Irwin. Sonoma, California, is one such place where she welcomes friends and grows a summer vegetable garden. They also own property on the Spanish island of Mallorca, which she describes as a "friendly democracy," magical, ancient, low key, less corporate and with excellent, inexpensive health care. Drawn to the place over 30 years ago, because her best friend moved there from Florida, her now deceased brother also lived in Mallorca for three years. Frank, her Bichon dog, even has his own Spanish passport (required by Spain!).
Staying through Key West hurricanes, Rhoades didn't travel for years and instead worked on her business, which included decorating and furnishing properties for clients, as well as marketing and owning vacation rentals. Now, she laments, vacation rentals are largely controlled by mega corporations, replacing many local businesses. Describing herself as a frugal entrepreneur and lifelong learner, she is also somewhat reclusive and a nature lover, as well as loyal and ethical.
Coming back to a changed Key West, where her offices and a family of employees (who never leave) are located at 505 and 507 Whitehead St., she also simply likes it here.
Katie Truax Alexander is a graphic artist, metal sculptor and former commercial interior designer living in Key West. Her email address is katietruax@comcast.net.