During my latest trip to Cuba, my adopted family in Havana was all excited about a new pizza joint that had recently opened about 30 seconds from their front door in the Cayo Hueso section of Havana. The name escapes me and they'll need to cook the crust a little longer, (always a bit of a problem in Cuba), but hey, for a few bucks, a nice, cheap, fast Hawaiian pizza is right on the money.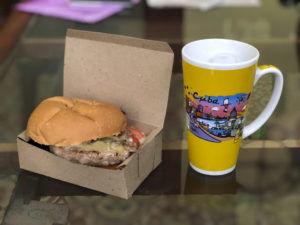 As if that wasn't enough of a gift from the food Gods, a few days later, my friend says, "oye, take a look up the street and tell me what you see." I literally couldn't believe my eyes when I saw the "Golden Arches" on a sign across Neptuno Street. "What the hell is that?" I asked. He said he hadn't tried it yet, but apparently, some Cuban guy with a sense of humor named "Omar," decided to name his new place "McOmar's."
Upon closer inspection, it's obvious that the arches are really just two down-pointing hands, but as I told the guys working there, this sign will catch the attention of gringos for blocks around. Knowing that Cuban ground beef always tastes a little "gamey," I still couldn't resist trying a cheeseburger, and being a Quentin Tarantino fan, I was hoping they called it the "El Royale," but alas, it's simply "La Hamburguesa con Queso" and it was pretty good. In all honesty, it didn't stack up to the processed, hormone-filled, scientifically-perfected "meat" my stomach is accustomed to, but I ate it, and I'll be back.
And acccording to Omar's extensive menu, they have enough variety to keep customers coming back for a good while. This is one unmistakable change and improvement in Cuba.
Ask anyone who traveled to the island prior to 2008 or so and they'll tell you that the only truly good meal was found in a private home. The Cuban term for this type of establishment is "paladar," which, technically means "palate," but comes from a popular Brazilain soap opera called "Vale Tudo," which in Portugese means "anything goes." The show, which featured a woman with a chain of restaurants named "Paladar," was popular in Cuba in the early 1990s around the time that the Cuban government began to slowly allow private citizens to open their homes, with 12 seats or less, to serve the public.
Years ago, the vast majority of these places were set-up in peoples' living rooms and while the surroundings seemed a bit strange, the food was always exceptional. Fast forward to the past 10 years, and Cuba has become a culinary destination.
Now, neither I, nor the chaps at "McOmar's" are claiming any high-society dining experience, but the most important part is that entrepreneurs are coming out of the woodwork down there and they know how what they're doing.
On the higher dining end, an L.A. Times article I found online talks about visiting much swankier places, located in old buildings and rooftops around Havana serving duck ceviche and octopus carpaccio alongside traditional plates of Ropa Vieja and fried malanga. And before anyone starts piling on about this all being for tourists, the fact is, there is more and more commerce going on in Cuba these days and ordinary Cubans are getting in on the action, too. I know that, because I've been there, a lot.
You see, it has been my experience that our government has always wanted Americans to believe a certain narrative and by keeping most us out of Cuba, so all people can do is echo what they hear, not what they've seen. Having said that, and please keep this in mind, despite what you may hear, at the moment, it has never been more legal for Americans to travel to Cuba. That's right, since I started sliding through Nassau and Cancun in the late '90s, it has never been easier. And now they even have cheeseburgers.