Most photographers strive to make unique images and while I, too, love shooting antique American cars and old ladies smoking ridiculously-large cigars, that kind of stuff can get as stale as a forgotten Swisher Sweet. Thankfully, there are still places in Cuba like Cayo Saetia in the province of Holguin. In 2004, a Citizen reporter and I ran into a guy and his son in Santiago de Cuba and they were telling us wild tales of free-range camels, wild macaws, water buffalo, zebras and antelope. Since we were slowly making our way back to Havana, we decided to check it out. Sadly, back then, signage was nearly non-existent and by the time we got there, all I got was a low-light and grainy shot of a lonely zebra hanging out in front of the lobby. It was a lame image, but the hook was set.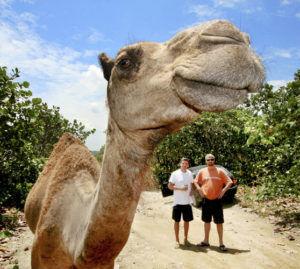 A few years later and with better preparation, I dragged a few friends along for the first of several visits to this truly strange locale. Originally built as an elite hunting preserve for government officials and visiting dignitaries, the only shooting going on these days on the 16-square-mile Cayo Saetia is done with a camera, which dovetails nicely with my slightly warped world.
A small, 30-foot land bridge attaches the mainland to the island where deer run alongside your vehicle as you follow the dirt road up to what I guess you'd call a lodge. Inside, a modest restaurant offers antelope steak, (so there must still be a little hunting going on), and a small bar sports several out-the-ordinary items on the wall that shall go unmentioned.
Surrounding the main building are a dozen or so comfortable bungalows encircled by a tall fence. I'm not sure if the fence is really necessary, though, as ostrich attacks seem to be on the decline, globally, and the resident "flock" seems amenable to ridiculous photo shoots.
At daybreak, Jeep safari tours are available to "four-wheel it" around the island and this is where you can get some pretty unique Cuba photos. For instance, I have lots of photos of my friends in Cuba, but it was Cayo Saetia that allowed me to shoot them with camels and 6-foot-tall birds. Rolling through the woods for a bit, it doesn't take long to come upon a huge herd of antelope flitting across an open prairie. Around the next turn, a muddy pond is filled with water buffalo, and just beyond that might be a couple dozen zebra, grazing in the grass, so to speak. But there's more to the place than a faux-African photo safari.
Beyond the forest and the plains, down a steep hill, heading east, the stunning, calm, blue-green water of the Atlantic Ocean comes into view. As you emerge from underneath the trees, a beach that, to me, is reminiscent of Jurassic Park, butts up against rocky cliffs. A wide, sandy-bottomed and shallow swimming area starts right below the restaurant that dangles precariously off said cliff.
The place is located about 500 miles from Havana, but it's worlds away from the craziness of the Cuban capital, and more unique than any other place I've seen on an island that continues to amaze. I would like to think that my nephew's class was impressed. How many other "Flat Stanley" photos out there include a Cuban ostrich lunging for a plantain?