I usually steer my groups clear of the uber-touristy things to see and do in Cuba, but some things are touristy for a reason. Quite simply, they're kinda cool. The "Callejon de Hamel" fits that description perfectly and, thankfully, if you can move quickly and don't mind be pushed and shoved a bit, you can experience this slice of Cuban life every Sunday. Just don't be surprised when you see scores of other tourists bumping into each other.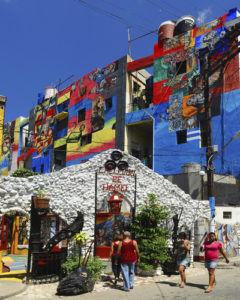 Located a few blocks from the sweeping steps that lead to the University of Havana and a block inside the neighborhood off San Lazaro Street, the small alley (Callejon) of Hamel street is impossible to miss at any hour of the day. Explosions of bright colors lure pedestrians inside from either side of the alley. Apartment buildings four and five stories high are awash in color and verse, all of which is the handiwork of Salvador Gonzales Escalona. The artist, sculptor and muralist, although never formally trained, began his project at a very precarious time in Cuba's history. Right about the time the Soviet Union was falling apart and pulling out of Cuba, "Salvador,' as he is known in the barrio, began his first mural. Fast forward 29 years and his two-block living art project rarely misses a mention in tourist guide books.
Originally from Camaguey, in the middle of the country, Salvador's mysterious look fits perfectly with the oftentimes haunting Afro-Cuban style artwork. Small galleries dot the sidewalks and on Sundays, raucous "rhumberos" pound away on drums they say are loud and proud enough to awaken the Orisha spirits, the focal point of Santeria. It's all quite cool, but it can be a bit of chore to pass through the place and you'd be a fool leave anything of value in your back pocket. Though it's never happened to anyone I know, when I'm pressed on the state of safety and security in Cuba in general, this is the kind of place where "stuff could happen." It wouldn't be anything violent, you probably wouldn't even know it had happened until it was too late, anyway, but whenever you have a bunch of people bumping, grinding, pushing and shoving, things tend to go missing.
This is why I prefer to bring people around early on a weekday. At that time of day, you can enjoy the seemingly endless murals and found-item sculptures, many made of toilets, bathtubs and sinks, without having to put a death-grip on your wallet. But that's just me, the lover of art, with an even deeper appreciation for my belongings.