Back in November, as you may remember, I spent four very unique days in the remote fishing village of Cocodrilo on the Isle of Youth. I figured after beating that story mercilessly into the ground," enough time had passed to mention one of the stops we made on our way back to civilization.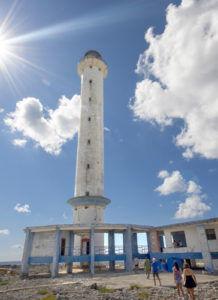 Bouncing back along the same horribly-pot-holed "road" to the island's capital city of Nueva Gerona, our intrepid driver, Alexi, off-handedly asks, "lighthouse, you want?" We had plenty of time before our flight, or so I thought, so a quick photo op stop couldn't hurt, right?"
Well, after a harrowing drive down an unkempt, pine-lined dirt road, and barely making it through a vehicle-swallowing hole of slippery mud, we arrived at a pretty serious-looking gate, at which point I'd have been fine with snapping a pic and heading right back out. However, our host, who used to live in Cocodrilo as a ranger a decade ago, knew the lighthouse keeper, of course, so the gate swung open and we entered. This would make a better photo, not necessarily a great photo, but a "been there, shot that" photo.
Like moths to a flame, most everyone in the group gravitated toward the base of the hulking, chalky-white cement obelisk surrounded by the ruins of what was once an entire compound before Hurricane Gustav leveled most of the surrounding infrastructure in 2008. About that time, I heard my friend's son say, "wanna climb to the top?" Now, in this space, I can't print my entire, deathly-serious, two-word response. However, I can say that the first word started with a capital "F," and the second word was "no!"
Undeterred by the massive size of the Carapachibey Lighthouse, the 20-somethings in our group headed inside, scampering right up the steps. Honestly, I couldn't have cared less should there be any ribbing as peer pressure stopped working on me decades ago. But then, out of nowhere, my Cuban "brother from another mother," who happens to be 10 years my senior says, "are we doing this, or no?"
The next thing I knew, in between heaving breaths, we were halfway to the top. Unfortunately, upon closer inspection, and to my brief dismay, we weren't even a quarter of the way up. It was at this time I adopted the classic mantra, "slow and steady wins the race, slow and steady wins the race."
The cavernous structure, filled with cement steps, mostly unbroken, echoed loudly with the laughter of the "young'uns" who, by now, were nearing the apex. Considerably more than a few minutes later, the "elders" made it to the summit, and after recomposing myself, I requested a group photo. The panoramic view of the Caribbean Sea on one side and the unique topography of Cuba's "island inside an island," was well worth the effort. Particularly cool were the distant, mini-mountains (possibly not a technical term) on the outskirts of Nueva Gerona some 50 miles away.
But far beyond the view and resulting images, it was the accomplishment of climbing 288 steps with a healthy rum hangover that will stick with me most. And while that's 66 steps fewer than the Statue of Liberty, which I climbed in 1990, it's three times as many steps as the Key West Lighthouse. As a matter of fact, (according to the internet), the Faro de Carapachibey is the tallest lighthouse in Latin America. Stop! Hold the phone. As usual, the internet "echo chamber" is apparently wrong again. According to www.ibiblio.org, (whatever the hell that means), there are several lighthouses taller than 184 feet in Argentina and Brazil. So, there you have it, another Cuban myth, spread all over the web via countless online guide books and websites has been debunked right here, in The Key West Citizen. How do ya like that?
Actually, according to the World Atlas, the tallest lighthouse in Latin America is actually atop a highly ornate building in Buenos Aires, Argentina, that was built in 1923. It's a safe bet I won't be climbing that one any time soon for several reasons.