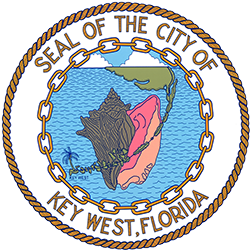 U.S. Coast Guard Rear Admiral Douglas Fears, director of the Joint Interagency Task Force South, addressed the Key West City Commission at Tuesday night's meeting to present plans for a $200-$300 million rebuild of their facilities in Key West.
Hurricane Irma did enough damage in 2017 to place the agency's future in the Florida Keys in limbo. Fears said the majority of structures were constructed in 1953, adding, "So, they're old."
However, it was decided that JIATF-S would not only remain, but also significantly improve and update its infrastructure located in the Truman Annex.
"Last April, the decision was made to stay in Key West," said Fears, adding that he's had three tours of duty with the Coast Guard in Key West and, along with his wife, considers it a "second home."
Fears detailed the undertaking by showing artist renderings and site plans on monitors around the Key West City Hall at the meeting attended by dozens of citizens in addition to city officials.
"If budgeted," said Fears, "we would break ground in 2025, and it would be a three-year project by the U.S. Army."
JIATF-S partners with 20 nations from France, Spain and the United Kingdom to Mexico, Chile and Brazil. The agency detects and monitors illicit trafficking — mostly for cocaine traveling in multiton shipments from South America toward primarily the U.S. — in the air and maritime domains to facilitate international and interagency interdiction and apprehension. It also has 13 U.S. partners, including the Federal Bureau of Investigation, Customs and Border Protection, Department of Defense and Department of Homeland Security.
Fears stressed what the economic benefits the decision to stay and eventually plow under and rebuild facilities will mean to Key West. He began by pointing out that JIATF-S has 550 employees living in both the Lower and Middle Keys, with a $37 million payroll and hefty buying power. Fears added that his agency brings 3,000 to 5,000 visitors annually to Key West.
"This also will be bringing a fair amount of construction jobs into the area," said Fears, who became the agency's director here in June 2020.
Key West Mayor Teri Johnston smiled and told Fears after his presentation: "You are our quietest neighbor in Key West, and you certainly took a hit from Hurricane Irma." She noted how glad she was that they were staying.
The operation, originally based in Panama, merged into JIATF-E when it came to Key West in 1999, and changed its name to JIATF-S in 2003.
The City Commission approved amendments to an ordinance entitled "Traffic and Vehicles" connected to safety restrictions on scooter and golf cart rentals, and listened to a lengthy visual presentation from Mark Maisel of Lama Mobility hotel electric scooters.
Maisel proposed a one-year pilot program that would offer 48 e-scooters available for rent via phone apps to those 18 and older at three Key West hotels. Scooters would be taken and returned to designated charging stations, rather than left randomly on sidewalks as is the case with some e-scooter rental companies.
Other e-scooter programs also could be considered for pilot programs.
Commissioner Jimmy Weekley made the point during both Maisel's detailed presentation and amendment discussion that he was concerned with drivers under the influence of alcohol on all forms of transportation, including scooters and golf carts.
"Increased enforcement would be appreciated," Weekley said.
Johnston added, "We're legislating meaningless legislation unless you enforce it. We don't have enough enforcement, and therefore we have no enforcement."
Maisel noted that those potentially renting his e-scooters are subject to the laws of all vehicle drivers, and Key West Police representatives stressed that they pursue enforcing all elements connected to safe driving.
Commissioner Gregory Davila's resolution to recognize the "courageous struggles" of Cuban residents amid their recent strife was unanimously approved. The resolution was amended to note a position "against Castro's authoritarian Communist regime" after impassioned speeches from resident Gilda Niles and Commissioner Billy Wardlow, whose mother is a Cuban native.
The commission unanimously passed Weekley's resolutions to urge the "immediate repeal" of two pieces of state legislation:
A Florida House Bill which prohibits the State Board of Education from shielding institutions, including students, faculty and staff within the Florida College System from "speech that they may find uncomfortable, unwelcome disagreeable or offensive."
A Florida Department of Education amendment to a Florida Rule connected to the teaching of "Critical Race Theory" by describing it as "an example of theories that distort historical events and are inconsistent with state board-approved standards."
Weekley allowed, "The odds of repeal are slim and none, but we have to let them know everyone does not agree with what they are doing."
Commissioner Clayton Lopez commended Weekley, saying on a Zoom connection, "I believe so strongly in it. … The whole story needs to be told."
A proposal was discussed for both the City of Key West and Monroe County contributing $600,000 apiece for the purpose of making Poinciana Gardens a continued option for low-income senior living.
The Monroe County Commission also was taking up the conversation at its meeting Wednesday.
City Manager Patti McLauchlin noted that $400,000 is budgeted for such purposes, and that it "will be discussed at budget meetings" running Wednesday through Friday, July 21-23, by city officials.
The facility is under capacity and has had two managers unable to make Poinciana Gardens viable, and it was noted that there will be a search for a full-time administrator. Johnston asked, "What are we doing wrong?" She stressed the need to market it, noting that such promotion has never been done.