If you hadn't been paying attention to the debate this summer about three cruise ship resolutions on the Nov. 3 election ballot, a series of postcard mailers that recently arrived in Key West mailboxes might just scare you.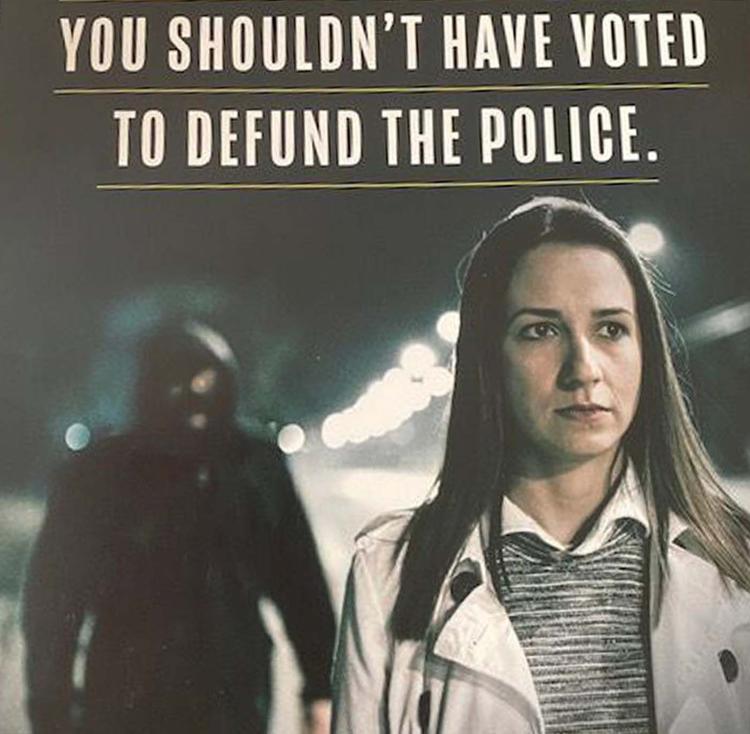 Employing frightening photographs of women in distress, including one woman being stalked by a man dressed in black with his face completely covered, the mailers claim that voting in favor of the three resolutions will cause dire results, including drastic cuts in funding and staffing for police, fire and emergency services.
"You're being followed, or your house is on fire, or you've experienced a break-in. Call 911, right? But you voted YES on all the cruise ship charter amendments, which will gut our police force, EMS, and firefighters," according to one mailer, which then promises "a 30% cut in tax revenue to the city and force massive cuts to our budget."
Another mailer shows a different photo, again of a helpless woman, this time in bed with one eye opened wide like an ad for a horror film.
"Imagine it's the middle of the night and you hear a window break. You dial 911 and the emergency operator informs you that it may be awhile before the police can respond to your call because of staffing cuts. That's what may happen if the cruise ship charter amendments pass," the mailer reads.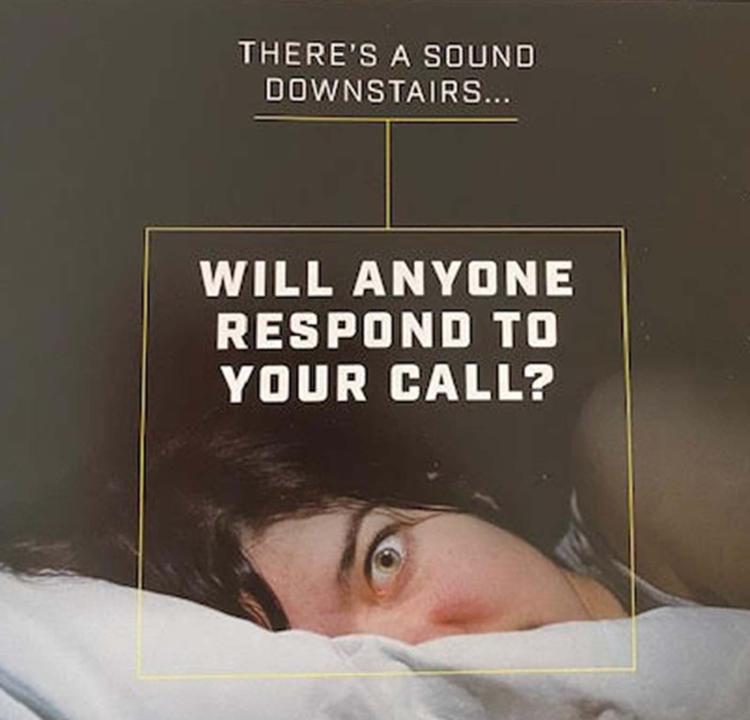 The problem is, the staffing and funding reduction claims are false, according to the Key West police, fire and emergency management services chiefs. The 30% revenue reduction is also false, according to city Budget Director Mark Finigan. And the Key West Chamber of Commerce, which has come out against two of the three referendums — the ones limiting cruise ship size and daily passenger disembarkations — said it doesn't know from where the claims come.
As to who is behind the mailers and an identical campaign currently running on Facebook, that has an interesting answer. The three different mailers identify two companies that are separately paying for the ads: Protect Our Jobs PC, a political action committee, or PAC; and Protect Our Jobs, Inc., a non-profit 401(c)(4), which under Internal Revenue Service regulations is an organization that must be a non-profit operated exclusively to "promote social welfare." The PAC joined the Key West Chamber this summer, according to Chamber Executive Vice President Scott Atwell. Calling the PAC a grassroots, "more positive" campaign group, Atwell said he didn't know anything about the Protect Our Jobs social welfare organization but was aware they were two different organizations.
"The one that joined us is different from the one that is sending out scare tactic [mailers]. They're different legal entities," he told The Key West Citizen.
However, The Citizen has learned that the two organizations are chaired by the same person, Maria Isabel Garcia Del Rio, according to Alex Miranda, who works for Garcia Del Rio and who is heading up the "Vote No" campaign in Key West. While the PAC is registered at a trailer park in Dade City, Florida, and the social welfare non-profit at the UPS store in Key Plaza in Key West, the two organizations share a postal permit, were both created in August and, according to Miranda, have media messaging that is aligned.
As for who or what entity has donated the $23,754 that Protect Our Jobs PC reported to the state elections division as "contributions," Miranda wouldn't comment on from where that funding came. However, Citizen research turned up another political marketing campaign sponsored by Protect Our Jobs, Inc., the social welfare group. That campaign is for a petition drive aimed at ending the no-sail cruise ship ban in Florida, possibly indicating a funding connection between the Key West "Vote No" campaign and national cruise line industry.
The no-sail state petition drive uses some of the same arguments currently being made in the "grassroots" effort by the Protect Our Jobs PC in Key West, mostly revolving about a catastrophic loss of jobs if the referenda pass. That PAC has sponsored three public meetings recently, one on Sept. 29 at the Rams Head Southernmost restaurant, the second on Sept. 30 at the Hemingway House, and the last on Oct. 1 at Tattoo's & Scars Saloon. The meetings were, according to the invitation sent out by the Key West Chamber to its members, to "mobilize to defeat the cruise ship ban."
At the Hemingway House event, about 75 people attended. Hemingway House owner Mark Morowski, who said he was recently forced to lay off 17 of his 37 staffers due to COVID-19 and cruise ship passenger-related decreases in visitors, said he donated use of the outdoor rental space at his venue to Protect Our Jobs PC. And Bill Lay, who owns several restaurants in Key West, was asked by Alex Miranda to speak at all three events, which he did.
Lay emphasized he was committed to the group he started, Keep the Cruise Ships in Key West, and not to either of the Protect Our Jobs organizations. However, he said some of the issues being promoted by his group and the PAC "overlapped a bit" so he was happy to speak at the events to help inform voters.
However, he said, he does not endorse the fear-mongering tactics being employed in the Protect Our Jobs social media campaign.
"I don't agree with them one bit. I don't agree with scare tactics," Lay told The Citizen. "I am not behind that sort of campaign at all."
Atwell also criticized the sensational direct mail and social media campaign its new member is sponsoring.
"That is not an approach that the Chamber endorses. We present facts in a respectful way," he said.
Both Lay and Atwell said neither they nor their organizations had made "contributions" to fund Protect Our Jobs PC.
In addition to the photos of women being stalked, Protect Our Jobs states that tax revenues in Key West will be cut by 30% if the cruise ship referenda are passed, leading to "major funding cuts that will devastate vital city services like Police and EMS." That's news to Police Chief Sean Brandenburg and Fire/EMS Chief Alan Averette.
"Finance Director Mark Finigan spoke with all emergency response chiefs. Residents and visitors will not see any reduction in level of service or response times," said Key West Police spokesperson Alyson Crean.
"I spoke directly with Alan Averette," Finigan confirmed. "He said absolutely not. With both EMS and Fire, he did not anticipate any service level reduction or response time decreases."
Finigan said the city may see an increase in overtime payments to some city public safety officers as a result of the budget cuts related to cruise ships. And there were two entry-level firefighter, five police and two dispatcher positions that were suspended, though not eliminated, in the current fiscal year budget, with the goal of keeping them open until the city can afford to fill them, he said. That elimination of salaries for the suspended positions helped offset the loss of $4.64 million in cruise ship mooring, security and disembarkation fees paid to the city in FY 2019 that were taken out of the current FY 2020/21 budget. None of the officers impacted were laid off but were transferred to other open positions within their departments.
"We did see several critical revenue sources impacted. But we were able to offset those with a series of cost-cutting, including suspending positions, freezing wages, no travel and one-time transfers from the [city] insurance fund and an additional transfer from the Key West Bight fund," Finigan said.
When asked about the 30% drop in revenue the Protect Our Jobs mailers claim, Finigan said his budget projections for the current fiscal year assumed a 20% decline in some major revenue sources, including state tax and parking fees. However, those revenues are already coming in higher than anticipated, he said.
Even the groups worried about a local business collapse if large cruise ships are prohibited in Key West say the claims in the Project Our Jobs social media campaign are wrong. Both Bill Lay and the Chamber's Atwell agreed they didn't know how Protect Our Jobs developed its claims.
"I don't know where that came from," Atwell said about the 30% revenue cut figure. But he said the city may not be able to continue to find new sources of revenue in the future to offset the loss of cruise ship revenue.
"This year they raided every piggy bank they could of one-time funds. Next year, we're not sure," he said.
When asked what the dramatic claims on the mailers were based on, Miranda wouldn't comment. He said his newly-hired communications specialist, Nicole Rapanos, would call The Citizen to detail the research Protect Our Jobs used to come up with those statements. Three days after that promise, Rapanos had not called.
Miranda, however, did say that he believes the revenue-slashing claims are correct.
"I think it's calling attention to what theoretically could happen," he told The Citizen.