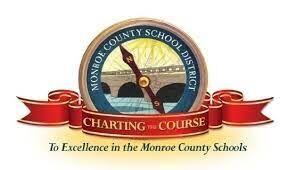 The superintendent's contract, Marathon High School's water fountain incident and finances were among the items discussed at the three-hour Monroe County School Board meeting on Tuesday, Nov. 16, in Marathon.
Schools Superintendent Theresa Axford heard words of affirmation from the district's board. She was assured of two more years before a nationwide search for a replacement could be conducted. Axford had risen through the ranks for decades, from local teacher to superintendent, and was complimented for promoting employees from within the local talent pool herself, "giving good mobility to some of our aspiring administrators," said School Board Chair John Dick.
School Board member Bobby Highsmith said it's not about Axford but a means to be "more thoughtful and deliberative" that he supports a nationwide search in the future. He said Axford was hired on an interim basis and it's "the process we followed" in her selection that concerns him. "We owe it to our constituents to honor what we said at the outset."
School Board member Mindy Conn said Axford "valiantly walked the district through COVID," an unprecedented challenge.
Dick mentioned the last time the district conducted a nationwide search for a superintendent, the board agreed on only one candidate and that was Mark Porter, who stayed eight years as the schools head until his retirement July 31, 2020, when Axford began her new role.
Axford's contract will come before the board at its next meeting.
The board also wants to tie Axford's formal performance evaluation to the strategic plan with metrics of meeting goals, as well as strengths and weaknesses. The evaluation process is in the works and will be ready by July 31.
The board also conducted its annual leadership election, and Dick remained as board chair for the coming year, while Andy Griffiths, the longest-serving member, remains vice chair.
Axford said the schools will introduce a new district-wide social program entitled, "We don't talk like that here" to effect positive behavior. A Marathon student had labeled a sports area drinking fountain for "whites" and another for "coloreds," and while the action was deemed non-threatening upon investigation, Axford acknowledged that song lyrics and how some students may talk to one another may be inappropriate, insulting or harmful.
She added a visible effect of the A/B attendance high school schedule during COVID-19 was that some students only saw particular students during their in-school days (versus online learning days), and that resulted in population segmentation. However, the new program emphasizes required respect and tolerance at school and has a two-day suspension as a consequence for breaking that code.
Director of Finance Beverly Anders gave a report on how American Rescue Plan Funds were spent. The district also received an invitation to apply for additional funds with the deadline to submit OF Dec. 17.
Monroe County received $12,914,142 for use between March 13, 2020 and Sept. 30, 2024. "We are going to spend [this] over a couple of years, especially when we fund positions to carry us through multiple years," she said. At least 20% ($2.5 million) must go to addressing learning loss. "We're spending way more than 20% to address this. This includes another robust summer school plan."
Funds paid for 66 paraprofessionals, additional teachers, guidance assistants, nurse technicians, social workers, reading coaches and more, according to the report.
Charter school allocation is $1.5 million, broken into two-thirds of the dollars being distributed now and one-third in the spring of 2022. Submitting an updated "Instructional Continuity Plan" within 90 days of award is required.
Public comment within 60 days of award also is a requirement, to be garnered through public meetings and requests for feedback through community outreach.
"We spend a lot on technology, such as Project Lead the Way," Anders said. "We provided 200,000 internet hot spots, including to personal homes. AT&T worked with us by providing a discount. Chrome Book cases helped protect portable computers, and some used them on buses that have Wi-Fi."
For employee retention, the rescue funds provided $1,505,174 in employee bonuses, vaccine bonus, and a summer school employment bonus. Two million dollars were spent on state-of-the-art furniture to enhance learning.