1/06/75 to 3/23/21
Moses Michael Pellegrino, 46, died at home in Key West, Florida, on March 23, 2021, of an undiagnosed heart condition (cardiomegaly), despite immediate life-saving efforts by his family and a team of Key West Fire Department EMTs. For all who knew Moses's heart, the fact that it was too large makes perfect, if tragic, symbolic sense. Moses's death leaves a terrible void in the lives of so many, from his wife, Jessica (née Patton), and children Michael (23) and Stellina (13), to his immediate and extended family, to friends, to fellow members of his fishing community, locally and worldwide.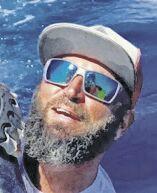 He is survived by his parents, James Vincent Pellegrino and Marilyn Messina Soriano; Clarine Sganga; brother James (Jimmy), sister-in-law Elaine, niece Victoria; sisters Jaclyn (Jackie), Samantha, and Michele Soriano; aunts Linda Santoro and Dawn Delfino, uncle Joseph Messina, aunt-in-law Clarise Patton; mother-in-law Lorna Lamsa; father-in-law Jonathan Patton; brother- and sister-in-law Daniel and Ellina Patton, nephew William; several beloved cousins and their families; an extended chosen family; and countless friends.
Moses was born in Greenwich, Connecticut, and called Port Chester, New York, home for much of his childhood and young adult years, in the rowdy warmth of an intergenerational, multiunit home (and, at one time, neighborhood store) built by brick masons in his Italian immigrant family, extensions added as the family grew. He lived also in South Carolina and throughout southern Connecticut, ultimately settling in Fairfield, Connecticut, where he and Jessica married in 2010 and raised their family until Michael graduated high school, when they relocated to their chosen hometown of Key West, Florida.
Moses worked as a carpenter for two decades, the second of which in high-end residential finish work and joinery. Yet, all he ever really wanted to do was fish; he grew up on the Long Island Sound, and spent as much time as possible fishing its waters. While recuperating from surgery for a spinal injury that would end his first career, he began fixing together reclaimed materials he'd long collected from scrap yards and seaports into functional art furniture. With a wabi-sabi aesthetic of simplicity, economy and natural degradation such as weathered wood and rust ("sabi" in Japanese), his work was exhibited in art galleries and boutiques. He next taught himself to build fishing rods, which brought together his craftsmanship skills, creative vision, and lifelong love of fishing — and, ultimately, led Moses to realize his true calling to fish as a profession (on occasion with Stellina, and her custom-built Sponge Bob-themed rod, in tow).
Moving to Key West enabled Moses to fish full-time, year-round, as he'd wanted to ever since he and Jimmy were kids riding bikes to the Byram River, rods on their shoulders, to catch snappers. His skills on deck and at the fillet table, coupled with his easy, genuine manner and sly humor earned Moses respect from the Florida Keys fishermen he admired and a reputation as a talented, trusted charter boat mate. With no intention of doing so, Moses became known to the rest of the world for his fishing videos and memorable charters with people who booked their vacations in Key West just to fish with him.
Moses never grew used to the attention he got from fishing but was genuinely, endlessly inspired about this passion he got to call work, and about sharing it, especially with kids as on fire for it as he'd been as a child (like his all-time favorite client, Ben, who in return for Moses's tutelage paid the highest honor there is: dressing like him for Halloween).
While fishing was his life, Moses had wide-ranging interests, including a broad and deep knowledge of music genres from jazz to jam bands, Americana to Afrobeat. He was a serious film buff, hot sauce aficionado, poker player, and collector of outsider art, tattoos and his signature flat-bill hats.
Moses was very much present and involved in his children's lives. He had strong, close relationships with them both, always rooting on and participating in whatever their interests — whether playing video games, making every sports and school event, reading aloud (and voicing each character) at bedtime, scouring thrift stores for potential art projects, or memorizing anime titles. He taught both of them how to swing a hammer, Michael to drive a stick shift, and Stellina to perfectly prepare and cook fish. He was so proud of Michael's 2019 graduation from Florida State University and the confident, kind young man he's become. He enthused about Stellina's artistic talent, individuality and care for all animals (even her pet rats).
Moses was a supportive and appreciative spouse. No matter his career demands, their differing schedules and divergent interests, he and Jessica shared an unflagging 17-year romance, 11-year marriage, commitment to their family, senses of humor and passion, and wish for the other's happiness and freedom.
The fishing community paid tribute to Moses's life on Sunday, March 28, with a farewell at sea to scatter his ashes, which was attended by a flotilla of virtually the entire charter fishing fleet of Key West. A Celebration of Life will be held in Connecticut/New York at a later date (and on land).
Tight lines, fair winds, and following seas!
To plant a tree

in memory of Moses Pellegrino

as a living tribute, please visit Tribute Store.