As a kid growing up around boats, I quickly learned Mercury outboards were built by engineers who were more focused on making a boat go fast than building dependable engines. To this day, the memory of my Dad's early Mark 75 Mercury, and its multitude of problems, serves as a reminder that I should avoid Mercury products.
Recently I read an article about Mercury's latest addition to its outboard lineup, a 600-horse power monster engine designed to produce incredible torque and horsepower. My first look at the 600hp Mercury immediately drew my attention toward the massive cowling that houses the 7.6-liter, lengthy, V-12 engine block. I shuddered as this exceptionally tall cowling gave me a flashback to the tall design of the cowling on my Dad's terrible Mark 75 Mercury.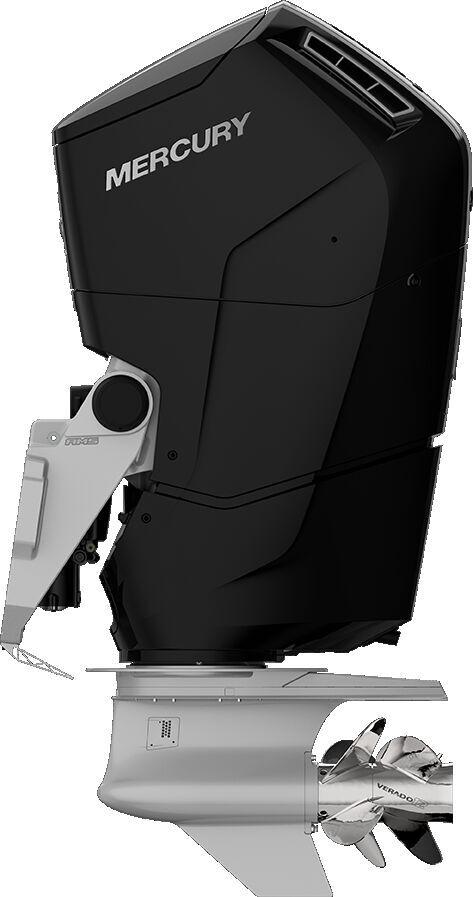 This obscene amount of horsepower comes from an outboard that weighs in at a whopping 1,260 pounds! So this revolutionary outboard is primarily intended to attract the attention of 1) boat builders specializing in manufacturing massive boats, 2) the wind-burnt "1-Percenter" crowd who can afford to spend more than $75,000 per engine, or 3) devout boat racing enthusiasts. Since I do not fall into any of those categories, all I could envision was me waiting for over an hour to fuel up my boat while a gigantic center console with four powerful Mercury 600hp behemoths hog all the pump hoses at our local fuel dock.
While the V-12 block is an interesting power decision, I was more intrigued by Mercury's futuristic innovation contained in the mid-section of this outboard. Here they incorporated an "industry first:" a two-speed automatic transmission, created in a bold attempt to harness all the power created by those busy 12 cylinders. This transmission's job is to quickly push a massively heavy boat up on plane and then seamlessly shift into a "cruising gear" to allow reduced RPMs while maintaining the ability to attain exceptional top-end speeds.
One of this outboard's most amazing engineering feats involves the fact the upper-engine section is firmly fixed to the transom, thus making it necessary for a revolutionary lower gear-case unit that turns from side to side in response to input from the boat's steering wheel. Now, I am just a fishing guide, but this steering system seems like it may potentially turn out to be the Achilles heel of this unique outboard.
To harness all this torque and horsepower, the Mercury engineers opted to add a "counter-rotating duo-prop system," which should also improve this engine's ability to push a large, heavy boat at amazing speeds.
I have no doubt, a boat equipped with one (or more likely multiple) new 600hp Mercury outboard(s) will certainly possess the ability to scream across the water and create wind speed forces capable of distorting and contorting a boater's facial features. However, for most of us real-world salty mariners (the "99-Percenters"), the true test of an outboard is its ability to stay out of the shop for repairs. Like I implied earlier, I have always viewed Mercurys as an outboard mechanic's best friend (translation: $$$), as they ensure job security for talented technicians who are kept extremely busy working on them (as well as for tow boat operators).
While I doubt I will ever buy a Mercury engine, I honestly wish them the best of luck with this highly innovative 600hp outboard, as developing technological advances that improve outboard performance represent a win-win for all boaters. I sincerely hope all of these progressive Mercury designs and engineering concepts are successful.
To me, the worst thing Mercury could do is jinx this new engine by putting a Verado graphic on the cowling. I have created a bunch of Mercury jokes … but my favorite one is: Verado … it's a French word that means "I need a tow!"
And, being an '"old-school" mariner, I hope Mercury offers a rope pull-start option for its new 600hp!