Spring is one of my favorite times of year in the Keys. It is a time when large schools of inshore and offshore fish begin their annual migration through the waters surrounding our islands. While I love watching schools of tarpon lazily rolling and feeding on the surface, I will admit my favorite spring fishing adventures involve chasing hungry pelagic fish offshore. Fortunately we are lucky enough to have the Gulf Stream's deep blue waters rushing past our spectacular archipelago, and this fast moving current brings a wide variety of oceanic species – tuna, mahi mahi and billfish.
As spring progresses, the weather improves slowly as the blustery winds typically blowing throughout March finally begin to relax. As the days continue to lengthen we finally see the powerful chaotic ocean starting to take on a languid appearance inviting fishermen to happily head offshore.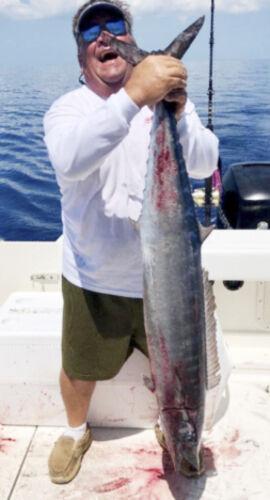 One of my favorite pelagic fish to chase during spring is wahoo. These incredibly powerful fish can quickly strip off all the line on your reel if you are not experienced in dealing with this challenging fish. As a result, it is not unusual for an excited fisherman to reflexively yell "WAHOO" as he listens to the reel continue to scream. (I have to assume this is how these magnificent fish actually got their name.) Wahoo are indeed one of the fastest fish in the ocean, and once you hook one up you are in for a tough battle as wahoo will continue their ferocious fight all the way to the boat. Newcomers to catching wahoo should be advised these energetic fish will not stop fighting even after they have been gaffed and thrown on the deck. In fact, they often continue thrashing around the back of the boat with tremendous intensity, tearing up rods/reels, coamings, coolers and anything else that gets in their way! Their razor-sharp teeth demand respect, and have taught more than a few fishermen the need to maintain a safe distance from a wahoo flopping about wildly in the boat.
Fishermen are quick to learn the sustained first run immediately gives away a wahoo's identity. While the loud prolonged screaming of the reel is really exciting, for me the biggest thrill comes when you finally coax a big wahoo up from the deep and get your first glimpse of their magnificent iridescent colors reflecting in the sunlight. As the ferocious predator is finally brought closer to the boat, you also get a good look at their massive jaw, which is full of razor-sharp glistening teeth.
About a month ago (which now seems like years ago), my neighbors, Kelly and Crystal, decided to load up the boat and head out to do a little deep-sea fishing. Since it was early March, they decided to try and target some wahoo. Fortunately they are well-versed in the art of high-speed trolling and know a few "secret spots'" where they could target these awesome predators. As luck would have it, they ended up catching two absolutely beautiful wahoo.
Wahoo are a prized table fare, as their filets are both firm and delicious. In addition, their meat contains just the perfect amount of oil to allow them to be perfectly cooked on the stove, in the oven or even on the grill!
Wahoo are primarily a tropical/subtropical species, with a life span of approximately five years. They grow rapidly in length and weight by eating a variety of squid, baitfish and other smaller pelagic species. While wahoo have been known to sometimes carry a stomach worm (hirudinella ventricosa), it is rare for this wiggler to be found in their filets. Fortunately, these spectacular gamefish are not currently classified as being overfished, which is likely due to the fact wahoo are typically taken by trolling.
Typical Florida wahoo run from a very small "WEE-hoo," measuring only a few feet long, up to a hefty 5- or 6-foot specimen. A big Keys Hoo can range up to 60 to 70 pounds. However, if you really want to catch a world-class massive wahoo, consider heading to the Bahamas (once it is back open again) as there are some absolute monster wahoo swimming off the deep coastal shelf dropoffs running alongside many of the islands.
Remember to stay careful out on the ocean and always try to avoid doing the "fish dance" with a crazy wahoo in the back of your boat. Plus, when you finally do have to return to land, remember to be safe back here too!.
Capt. Pete Peterson welcomes comments and suggestions sent to petersonventures@aol.com.