There was never any doubt about the potential of Key West High's Preston Herce. As a freshman, he was a member of both the All-Monroe County baseball and football teams, while also playing junior varsity basketball.
"His freshman year, he played very, very well and that sophomore year he was hitting third in the lineup when COIVD hit," Key West coach Ralph Henriquez said about Herce, who was also named the All-Monroe County football Player of the Year playing fullback as a sophomore.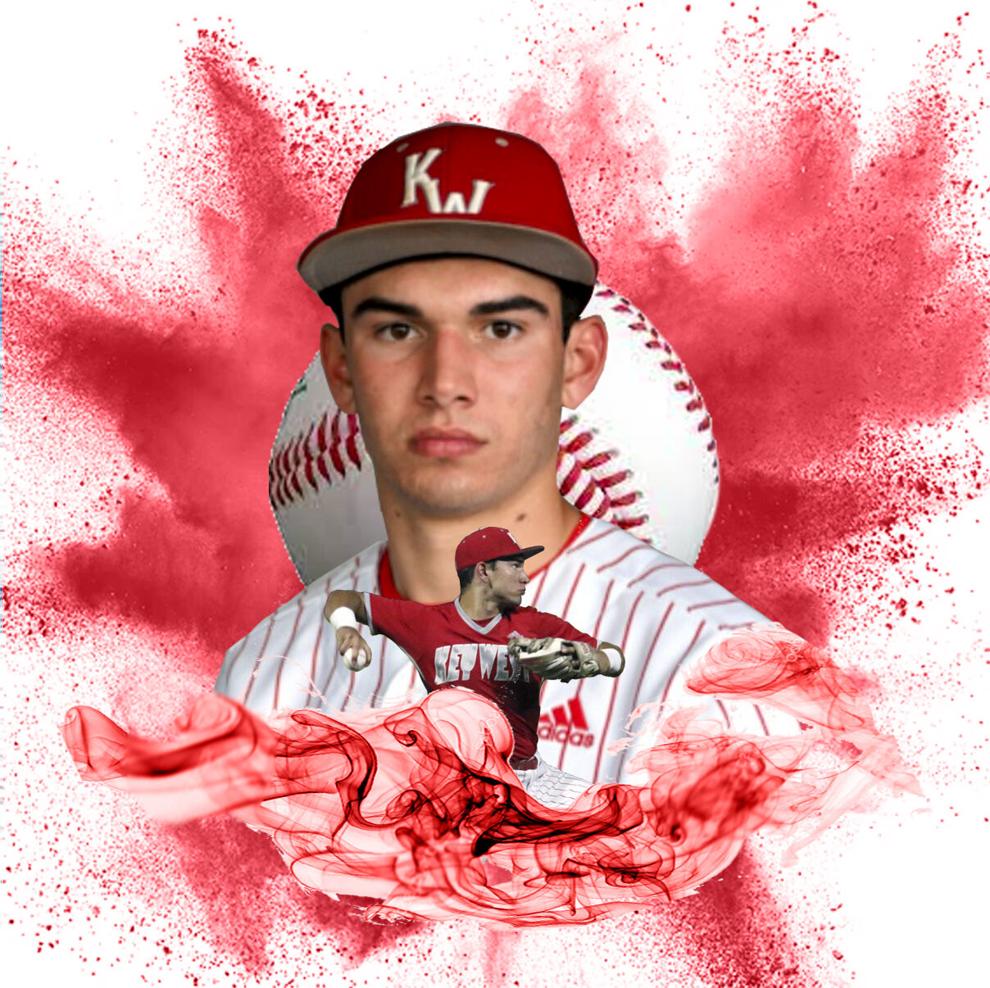 The quarantined year took its toll on Herce, as he did not suit up for his junior football season, and his lack of exposure also affected his performance when he returned for his junior baseball season.
That left Herce with just his senior campaign to show his full potential.
"The thing is that, he's very athletic, very intelligent, loves to compete; in football alone, you saw how much of a competitor he was," said Henriquez, pointing out that, for the second time in his high school career, Herce would be named the All-County football Player of the Year during his senior season as the Conchs quarterback, priming him for a breakout in baseball.
"It took us a while to get caught up with the baseball world, and it's hard to use a crystal ball, but Preston proved he would have been a hell of a player," said the Conchs coach, adding there was a certain ease to his play this season while claiming the triple crown for the Conchs as well as The Citizen's All-Monroe County Player of the Year honors in baseball. "It was just a whole different type of kid because the most important thing to him was being able to play. He had fun with his teammates, he had fun winning, and those elements are so important to a player having a good season."
The Conchs won 22 games during the 2022 campaign, powered by Herce's .494 batting average, 42 runs, 39 hits, 32 RBI, five triples, four home runs, one a grand slam, 25 walks, .630 on-base percentage, and .940 slugging percentage — all of which were team bests.
"He wanted to come out and win and do what he was capable of doing in order to get us that win, and he had a remarkable season," said Henriquez. "He just did great for us in every category, from swinging the bat to driving in runs. Last year I think he had 10 RBI and this year he had 32."
Combined with the success of fellow senior Trevor Zeulch at the plate, the Conchs coach contributed Herce's early-season hitting by helping the younger players to get on track.
"They put in a lot of hard work," said Henriquez. "Preston, being a leader on the field with his presence, with the way he was swinging the bat, it just became contagious. All of a sudden all the guys are hitting throughout the lineup and I give him credit for a lot of that and what he did. It just kind of enflamed the other guys to do the same."
The coach furthered that Herce could not only "change the complexity of the game with one swing of the bat" but also the senior third baseman made several game-saving plays at the hot corner, including keeping the no-hitter for teammate Andris "Lucky" Barroso in tack with a diving catch and throw to first.
In fact, Henriquez noted the Herce began the offseason focused on being a better base runner for his team — he still finished with a Conch-best 14 stolen bases on 15 attempts his season — but by the end of the year was flirting with becoming only the second player in program history to hit for a .500 batting average — Khalil Greene hit .500 in 1998. Herce's .494 average at season end ties him for second in single-season school history with Ben Harrison, who also hit .494 in the 1998 championship season.
"His fantastic season propelled us to 22 wins this season and you have to have that from a player in order to have that type of season," said Henriquez, whose team won the District 16-4A title this year and was the No. 1 seed in the Region 4-4A tournament. "He really was the catalyst for where we were this year and hopefully it will continue into 2023."
Typically, Henriquez expressed, that following a season as Herce had in 2022, several major colleges would be inquiring about his services.
"It used to be after the draft, which was in early June, I'd have coaches from bigger schools calling me because they had a few players get drafted," said Henriquez, noting that with the MLB Draft not until July this year and the NCAA transfer portal also opening up more options for coaches, so there are not as many opportunities for incoming freshman. "Now with this change, it has altered the dynamics of kids signing with schools."
Henriquez furthered that with several college players also staying longer, especially with a COVID season included, there are only a select few players who were able to sign with those Division-I and upper Division-II programs.
"We are now talking about five-to-six-year college players and if I'm one of these coaches who has a 23-year-old who has been in college for that long and can handle the environment, I'm not bringing in an 18-year-old, even if he is a good-looking baseball player, I'm still playing the 23-year-old because I want to win," said Henriquez. "That's what I'm going to with "
Had Herce been able to showcase his full potential for all four seasons, Henriquez has little doubt the Conchs' leading hitter this season would have landed one of those select spots on a major college program, but until he does get noticed, Herce will head to Pensacola College, where he will have numerous chances to show the rest of the world what Key West already knows, that he can play ball.
"It will benefit him getting a few hundred at-bats at the college level then playing in a summer league," said Henriquez. "It's an excellent way of breaking into college baseball. Of course, with him being so smart, he'll have no problem with his academics. He just needs to go out and keep playing baseball and keep getting better and who knows what will happen. He's going to hit, he's going to steal bases and get bigger and stronger, and you know he's going to give it his 110% and be successful."